Jun 15th, 2022
A People and Culture Check
Defining People and Culture at Catchafire.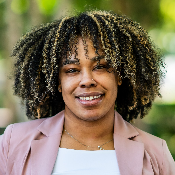 As a Black woman and marketing strategist—transparency and authenticity has a special meaning. For me, it means never subscribing to a cause or issue for the sake of just creating content. So when we brainstormed as a marketing team to discuss Pride Month, I cautioned at falling victim to the mass marketing prescription of "Let's put a rainbow on it and call it a day." I instead focused on whether or not Catchafire was actually doing the work internally and externally, and reflected on if it was enough to exert a voice during this coveted month-long celebration. The answer was yes. As a member of Noire, Catchafire's Black-identifying Employee Resource Group (ERG), I can honestly say that at minimum I've felt heard and seen. Not only have I had the privilege of co-leading and fellowshipping with a phenomenal group of Black professionals and thought leaders in Noire, but I have developed a renewed understanding of what it means to authentically and unapologetically show up to work everyday. It is evident that the People and Culture team at Catchafire is fully committed to leading and learning in the space of Diversity, Equity, Inclusion, and Belonging.
To start, Mila Singh, our newly appointed VP of People and Culture, has prompted the renaming of the Catchafire People Team, to the Catchafire People and Culture Team. I met with the team to discuss some of the tangible ways they are working to ensure every employee, regardless of their identity, feels seen, heard, and accepted.


The Mission
Fulfilling our mission starts with our people and culture. As an organization, we know that in order to give nonprofits truly equitable access to the capacity building resources they need, we must maintain a Diverse, Equitable, Inclusionary, and Belonging (DEIB) centered culture within. In these efforts, the People and Culture team is intentional about weaving elements of DEIB into its recruiting, onboarding, and employee culture. The team sees this specific dedication to employees as a long term investment in our mission and values.


Recruiting for Diversity
We strive to attract the best talent regardless of their identity. Sensitive, thoughtful, and inclusive language is used in job descriptions, and education requirements are substituted for years of experience to help recruit and attract diverse talent—and ultimately avoid further alienation and marginalization. By removing the requirements for candidates to complete background checks, disclose their gender, racial identity, gender status, sexual orientation, marital status, or disability status, the People and Culture team is able to avoid unconscious bias early in the recruiting process and reach a more diverse range of applicants.


Inclusion All Around
We set a precedent for inclusion. Our recruiting platform allows early candidates to provide their pronouns and record the pronunciation of their names — in tandem all employees are encouraged to lead with their pronouns in meetings, bios, and email signatures. In the near future, the People and Culture team will be rolling out a policy to compensate final full-time candidates for their assessment assignments.
Our ERGs are the backbone of our culture. We are proud to have ERGs for LGBTQIA2+ (The Alphabet), Black (Noire), Women (CREW), Parents (Raising Humans), International/Immigrant/First Generation (Global Voices), and People with Invisible and/or Visible Disabilities (Adapt). At least once a year, ERGs invite the entire staff to a seat at their metaphoric table to participate in events and learning opportunities during work hours. A recent policy has been passed to compensate all ERG leads for their leadership and time commitments.


Tackling Bias Through Continued Learning & Training
We are aware that everyone has unconscious biases. In an effort to reveal and eventually dismantle these biases, quarterly training sessions are held to address various DEIB topics. One in particular is led by Senior Manager, Events and Engagement, and current Alphabet ERG Lead, Jay Grey (they/them), called "Messaging without Misgendering," a one-hour training they created to share how to use gender inclusive language.



---
"This training was the final round of my hiring process, and I used that as an opportunity to gauge the environment I might be entering at Catchafire. Not only did I want to teach the importance and practical use of gender inclusive language, I also wanted to get a sense of where Catchafire was in terms of their experience with and support of trans employees. My hiring manager was extremely transparent with me that I would be the first openly trans employee, and I was able to see a desire to learn and grow from my presentation."
Jay Grey
Senior Manager of Events and Engagement and Alphabet ERG lead at Catchafire
---
Benefits Check
We value work and life simultaneously, so our benefits evolve over time to provide an equal balance of both. One of the primary ways a harmonious work/life balance is encouraged is through the unlimited vacation policy. At least once a year, ERG leads meet with the People and Culture team to assess benefit offerings and explore more equitable options. At their most recent request, benefits have been expanded to include a liberal and quarterly mental health stipend and a one-time gender confirming benefit. In additional support of LGBTQ+ staff, health insurance and bereavement leave for non-gender specific and chosen family members has been expanded. The Employee Policy and Handbook has also been updated to include more gender inclusive language.
Our people and culture make us who we are. The People and Culture team seeks to create safe spaces for all staff and candidates regardless of their race, color, religion, gender, gender identity or expression, sexual orientation, national origin, genetics, disability, age, or veteran status. The belief is that when people are invited to show up as their authentic selves, together, they can embrace humanity and all its facets and make impactful contributions to the world.



---
Read more about our commitment to Diversity, Equity, and Inclusion.
Share this article
Copy the link, then close this window.