Mar 5th, 2021
Stitching together a stronger community
About Black Women Stitch and a powerhouse leader.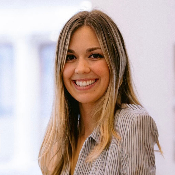 Black Women Stitch is a group that discusses both sewing and social justice. One of the biggest projects they're working on is their podcast, Stitch Please, hosted by the organization's founder, Lisa Woolfork. The podcast aims to support, celebrate, and inspire Black women sewers locally and around the world, and her content covers everything from how to stitch button holes to deeper necessary conversations around dismantling white supremacy.

Lisa W. is the only employee at Black Women Stitch, but that doesn't stop her from creating and distributing an incredible amount of content. When she discovered Catchafire, it changed the way she thought about what was possible and has since completed 57 projects and calls with virtual volunteers looking to support her mission.

Aside from producing podcast content, Lisa is creating other unique marketing materials. She matched with pro bono volunteer, Svenja L., to create a 2021 calendar that would be a mix of quotes and art. Lisa was overjoyed with the final product:

"Svenja crafted such a beautiful graphic design product that when I saw the final image, I was moved to tears. This was a massive undertaking, and one that we could not afford to pay for. She took the information and transformed it into art. The illustrations feel warm and created with care. In the end, she created something that produces in me a sense of wonder. It is rare to see one's vision come to life in such a material way."






Black Women Stitch has grown an incredible amount over the past year. Check out their calendar and podcast for more on sewing, radical self love, Black liberation, and social justice.
Black Women Stitch
Arts & culture Nonprofit
Member sponsor
Share this article
Copy the link, then close this window.