Jun 5th, 2023
Supporting Grassroots Causes in Arizona and Beyond
How we can support communities from the ground up.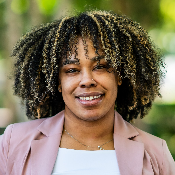 The power of grassroots organizations to make a difference in local communities is undeniable. From providing resources to those in need to leading campaigns for social justice and environmental advocacy, grassroots organizations are at the forefront of positive change within and beyond Arizona. We recently hosted a conversation with Blanch Vance, Senior Manager, Grants, and Strategic Operations at the Grove Foundation, to discuss the importance of supporting grassroots organizations and how foundations can get started in identifying who they are. We were joined by two leaders of Grove Foundation's grantee organizations, Araceli Villezcas, Sr. Communications & Marketing Manager at One Arizona, and Ariel Reyes, Political Director at Instituto, who shared how they are empowering community voices through accessing resources available on Catchafire.

For grantmakers, partnering with grassroots organizations is an effective way to reach whole communities and empower the voice of marginalized and underserved populations within for self-determination. Grassroots organizations are often formed by people who live in the community and have a first-hand understanding of the issues and challenges faced by its members. These organizations have established trust with their communities and are better able to engage them in the development and implementation of programs and initiatives. By collaborating with grassroots organizations and providing support, grantmakers can help build the capacity of these organizations and increase their impact, leading to long-term, sustainable change in the communities they serve.

How do you define grassroots at The Grove Foundation?
Blanche: We practice trust-based grantmaking so we support grassroots groups and leaders in key social movements. We define grassroots by people-driven efforts that are trying to incur change in the community and are developing solutions for how they want their neighborhood and region to look. Over the last few years, we've primarily focused on areas of civic engagement, environment, Black-led power building, safety net, immigration, reproductive health rights, and justice, and really being supportive to the folks leading in the work. We try to be adaptive and center those changemakers.
How do you define your work within that definition?
Ariel: Instituto is a capacity building and training hub in the state of Arizona that was founded due to a gap in resources. We're focused on civic engagement organizations in Arizona, helping them build capacity and making sure they have the training and resources they need to be successful. The way that ties into Grove's people-driven efforts is that we know the people closest to the problems are closest to the solutions. It is our priority to empower the folks within their communities, so we are not just a Maricopa County-based organization, we train and partner with people and organizations directly in Yuma County, Pima County, and Pinal County. We practice it day in and day out in the way that we hire and roll out new programs because we know that in 2027 Arizona will be a majority community of color state and that has to be at the forefront of our work every day.
Araceli: One Arizona is a collective of about 30 organizations that are focused on work within Arizona and have a far reach. We were started by four immigrant rights who built forward momentum in 2010 to fight against harmful legislation created by SB 1070 or the "Show Me Your Papers Law" that made discrimination legal. These groups identified that there was not enough people power in the state and that that was one of the reasons these laws were being passed—we didn't have a voice and we weren't stepping into our political power. So the way that these groups identified that we could change things in our state was by going out to the community and getting people registered to vote. Back in 2012, we registered 12,000 voters and that was a really big goal at the time, but over the years—because we've added more organizations, we've grown stronger, and we've been able to plan together and really align on what we want to see in Arizona—we've been able to register over 600,000 voters. Every year, we run a program to register more voters and because we've come together we are in a position to start dreaming about the future and set ourselves up for success.
What is your advice to foundations that are looking at grassroots collectives?
Araceli: Viewing us as a whole is beneficial because we are able to come together and strategize and have a solid state plan. There is no risk of overlapping work because we're talking to each other constantly. Each partner is so unique but we're all aligned in the fact that we care about civic engagement and collective power. Looking at us collectively gives us the opportunity to avoid duplicate efforts needlessly, especially with the presidential year coming up. It would also set us up to have one aligned budget for programming.

How did you find these organizations at Grove Foundation?
Blanche: We went to our table of partners in the Southwest region to see what was best with them in terms of support and uncovered opportunities to invest with newer individual organizations like Instituto and those that One Arizona has supported. We're really just being collaborative and relying on the work these organizations know about, they are the experts, and we are there just a connector and resource.

Why is it an important strategy to The Grove Foundation to bring Catchafire to your grantees?
Blanche: Catchafire is another way of being supportive of their work. It's a deeper layer of partnership and support for our organizations. It aligns with our values to give organizations the choice to decide what project they want to work on and who they want to work with. That's how we look at the resources and opportunities that we provide, giving flexibility and nimbleness is how we operate internally, so making sure that whatever opportunities we offer when it comes to capacity must align with that.
Instituto uncovered long term impact and worked with a volunteer to complete a translation project that saved them over $7,000:
Ariel: This project was important because there is a big Spanish-first/Spanish-only population in Uma County that we serve and we needed to ensure that they had the resources to train and educate. It allowed us to make an investment to make sure they felt seen, heard, and included in a very real way. 
One Arizona has completed over 20 projects on Catchafire, saving them more than $70,500. One of their most impactful projects was their website redesign:
Araceli: We were very much in need of a website redesign and we just couldn't get around to it. Our website was outdated, it wasn't communicating the work that we were doing, and it wasn't showcasing our partners as well as we could. So we decided to use Catchafire and ended up working with a volunteer who came up with a beautiful website. In preparation for the website design, we ended up needing a visual brand book, and we didn't know we needed that, our team didn't have capacity so we posted that project before the website redesign. That project has also helped so much because we've used it so much since then, not only on the website design but when we've needed to have mailers designed we've been able to just send this over. It was a little difficult before because we had to gather our logos and send colors, and now we just have it in one place. It has saved us so much time.
Providing grassroots organizations with access to Catchafire can be a valuable tool for capacity building and skill development. For grassroots organizations that may have limited staff and resources, Catchafire offers a way to access expertise that can help them improve their operations, develop new skills, and accelerate their impact. By partnering with Catchafire, grantmakers can provide their grantees with access to a wide range of skilled volunteers, while also helping to build the capacity of the nonprofit sector as a whole. Together, we can create a more vibrant and effective nonprofit sector that is better equipped to address the complex social and environmental challenges of our time and drive social change from the ground up.
Key Takeaways
Grassroots organizations are key players for foundations to support when resourcing community change and strengthening efforts.
Finding nonprofits at the heart of community can be accomplished by asking questions, listening to community voices, and welcoming fiscally sponsored organizations into the fold.
Grassroot organizations need flexible support that can help them achieve their goals. Access to professional skill-based volunteers to accomplish specific projects through Catchafire has allowed grassroots organizations to tap into unique resources tailored to meet their real-time organizational needs.


Bring Catchafire to your grassroots organizations
If you're a grantmaker and would like to learn more about equipping grassroots organizations in your community with responsive, high-quality and impactful capacity building support, let's connect. Email us here.
---
About our speakers:
Blanch Vance, Senior Manager, Grants and Strategic Operations from the Grove Foundation joined the organization in 2020. She leads grantmaking systems and organizational effectiveness efforts and has focused on supporting collaborative social change efforts, networks, nonprofits, and leaders. Previously she worked at the Annenberg Foundation and managed and advised donor-advised giving circles and the scholarship program at the Liberty Hill Foundation. Blanch holds a master's degree in public administration and a graduate certificate in Nonprofit Sector Management.
Araceli Villezcas, Sr. Communications & Marketing Manager at One Arizona grew up in Phoenix, Arizona and her experiences as the daughter of immigrants has influenced her involvement in advocacy and led to extensive experience in organizing for social and political change in the past ten years. Araceli is a human rights advocate and has worked in various capacities to fight for immigrant rights, worker rights, and voting rights. She feels a deep commitment to building political power for young people and communities of color.
Ariel Reyes, Political Director at Instituto is a lifelong Arizonan that started in civic engagement by voter registration, interning with the Arizona Democratic Party during 2011 redistricting, and building trade union PACs. Ariel has worked on school board elections, bonds and overrides, city councils, wage increase ballots, and independent expenditures supporting President Biden and U.S. Senator Mark Kelly. As Political Director at Instituto, she works to expand reach and partnerships to build capacity across the state.
Share this article
Copy the link, then close this window.